Foundation Problems in the Los Angeles Area, Is This a Deal Breaker when buying a Home?
Are you looking for a new home in the Los Angeles Area? This can be a fun and exciting process but is also fraught with concerns. If you are buying an older home there can be issues with an aging property. Foundation problems when buying a home can be frightening and expensive. While a certain amount of settling is expected in a home, it is important to know what to look for. The purpose of this blog is to inform and provide you with some basic tools.
As you search for your new home tell your Realtor that you will want any offer to be contingent upon the home passing an inspection. Many Real Estate agents will take care of this for you, but it pays to do a little homework on contractors that can provide this service. In the paragraphs below, we will provide some information about what to look for, what is serious, finding a reputable inspector, and how much it may cost to repair. Hopefully the seller will be willing to fix any problems or at the least reduce the selling price or share costs with you.
With a history of earthquakes in the Los Angeles basin this can affect any home over the years. Newer built homes may have safe guards built in and updated building materials that were not thought of 20 or more years ago. Take all of this into consideration before signing on the dotted line. The most important thing to remember is to select a property that fits your needs and is safe and will be for many years to come.
The Basics 
To get you started, included are some resources to help you understand the common problems when buying a home and to understand what they mean. You do not have to be an expert, but having a working knowledge will help you ask the right questions and make the right decisions. Some of the most common foundation problems are listed below. For more details go to http://myfoundationrepairs.com.
Soil Shrinkage Hot and dry weather can cause soil to shrink away from foundations leaving voids and spaces in the concrete foundation.
Erosion Soil can be washed away in heavy rains that protects your foundation.
Hydrostatic Pressure Too much water in the ground causes pressure on the foundation resulting in shifts and cracks.
Earthquakes The shaking of the earth can cause shifting and cracks and can even open up foundations.
Common signs of these problems are:
Floor cracks
Sloped or uneven floors
Wall cracks
Bowing or leaning walls
Ceiling cracks
Sticking doors or windows
Leaning chimney
Sinking or settling foundation
Wet basement
Water in yard
Foundation cracks
Now that you are armed with a little knowledge you can look for these and ask an inspector to give you an evaluation of the home you are interested in buying. Most southern California home owners are aware of these problems so it will not come as a great shock. When you are buying a home in the Los Angeles area, be prepared to tackle some repairs occasionally to keep your home's foundation safe and stable.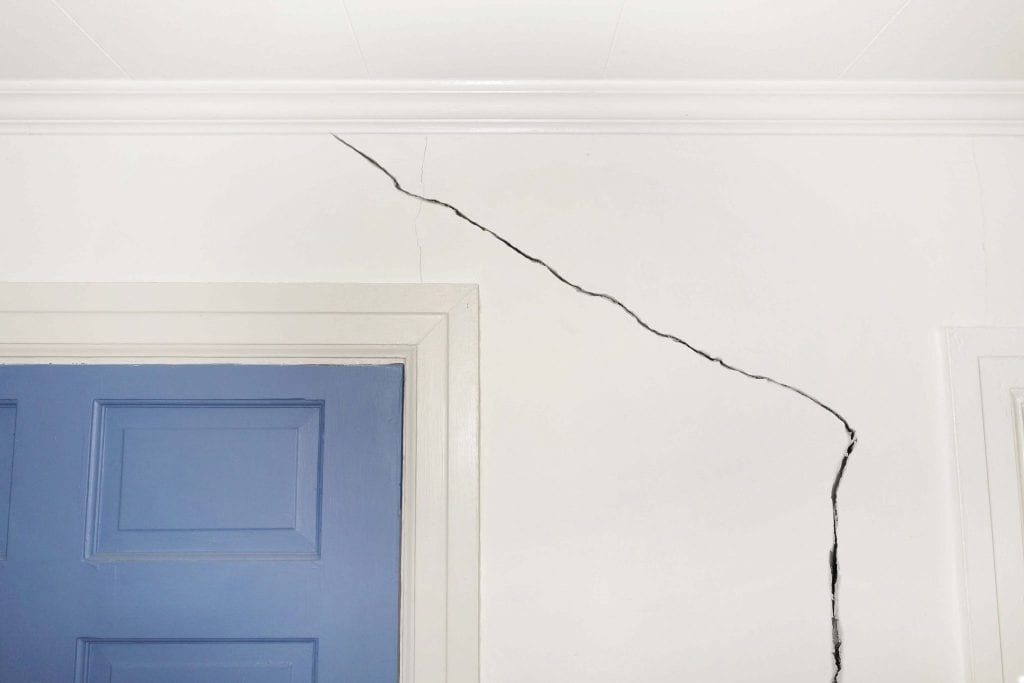 Getting an Inspection
Once you have decided on a property, it is time to find a reputable inspector who can diagnose any issues, give you a list of what needs to be done and hopefully an idea of how much time and money it will take to make repairs. This is not an unsolvable issue.
Weinstein Construction Corp. has over 35 years of experience in Home Inspections and Foundation Repair, you can contact Weinstein Construction and get an experienced Home Inspector to help you evaluate the property that you are thinking to buy.
Now that you have had an inspection and know what needs to be fixed you will want a licensed contractor to make repairs. The average cost of foundation repairs is estimated at $5000 to $7000 dollars. Some small cracks can be fixed for a few hundred dollars. To help you understand this, here are some websites with current information.
Finding a Licensed Contractor
A search on the web for your specific zip code will provide a list of recommendations for companies that do the type of repairs you may need. You can easily check any company through the Better Business Bureau and read their on line customer reviews.
Your home buying experience should be fun and exciting and if you have a little knowledge about what you are looking for, it will be easier for you to understand the important safety concerns that may arise. Foundation problems when buying a home does not have to be a deal breaker.
Talk to your Real Estate Agent for advice and do a little homework on your own. If you are buying in the Los Angeles, Southern California area please also talk to your insurance agent about earthquake insurance to protect you if foundation problems should occur. Southern California is a wonderful vibrant place to live and we want you to enjoy your new home secure in the knowledge that your property is safe and rests on a good foundation.
Have a wonderful adventure finding your New Home.