Over the span of two months in 2014, the Los Angeles Department of Water and Power reported over 30 water main breaks throughout Los Angeles. A water main broke at the UCLA campus in July 2014, spilling approximately 20 million gallons of water. A water main broke in East Hollywood last week. Each break wastes water and disrupts service, both of which impact homes in the surrounding areas.
Just the facts:
According to a 2012 study by the USC Center for Sustainable Cities, 2/3 of LA's 7,238 miles of pipes are more than 50 years old but only 43 miles were replaced during a recent 15-year period.
After 101 major serious ruptures in the summer and fall of 2009, the Los Angeles Fire Department drew up plans to replace around 38 miles of pipe a year for four years, according to the report. In conjunction with the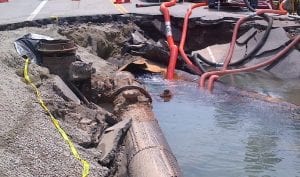 LADWP, they are still in the process of trying to replace all of the water mains. The entire system is on course to be replaced over the next 300 years.
If 300 years seems like a long time, that's because it is. KPCC reported in September that to speed the timetable up by even 200 years would likely cost $4 billion, according to Councilman Paul Koretz. That would still be 100 years to replace all of the water mains in Los Angeles and frankly $4 billion that Los Angeles doesn't have.
KPCC also reported in September that the LADWP paid out $9.4 million in claims filed after water main breaks over a five-year period, not including the UCLA break in July or any breaks to happen after that, showing that it is cheaper for the LADWP to continue to pay claims than to fix the problem with any sense of urgency.
All of this is to say that a water main break in your neighborhood is more than likely. It is probable.
Be prepared
Water main breaks usually result from external corrosion of the pipe, which weakens it and can ultimately lead damage. While there is nothing you can do to prevent a water main break in your neighborhood, you can prepare your home for a potentially massive flood.
The first thing you need to do is evaluate your foundation. If there are cracks in your foundation, it is an opportunity for water to seep into your home. Cracks are caused by a variety of issues but can be easily fixed by a foundation specialist, like those at Weinstein Construction.
There are several ways that you can figure out if your foundation needs to be repaired. Do you have:
Unleveled floors
Broken floor tiles
Sloping floors
Bumps in carpet
Cracks around windows and door frames
Sticky doors or windows, which are difficult to open and close.
Those are signs that you need to call an expert. Foundation fixes, such as crack repair or strengthening or underpinning, are usually quick and easy ways to ensure your homes stability.
Having proper drainage is also important to helping your home recover from issues like floods from water main breaks. Although there may not be any obvious issues with your homes' drainage systems, it is important to ensure they are working properly. If they are not, experts like those at Weinstein Construction evaluate your needs and determine how to best set up your yard for effective drainage.
It is also important to make sure that your gutters and drains are clear of all debris and that outside electrical components aren't sitting on the ground.
Mold is gross
If your home is flooded, for whatever reason, you need to take care of it immediately. If not properly dealt with right away, water can get inside of walls, soak into the wood and move throughout your home. Mold spores begin to grow within 48 hours so the longer your home stays damp, the more likely it is that mold (in its many variations including mildew, fungi, bacteria and dust mites) can grow.
But have no fear. Experts, like those at Weinstein Construction, can help you dry out your home and repair the damages at a cost that is affordable to you.
While preparing for a water main break may seem a little silly, a little preparation can go a long way to helping your home. A break is almost inevitable, but the destruction of your home doesn't have to be.