Retaining Wall
Retaining Walls Installation and Construction in Los Angeles
Weinstein Retrofitting Systems are the Retaining Wall Experts! The Installation of Retaining Walls Has Never Been Easier!
Weinstein Retrofitting Systems has been installing and repairing retaining walls in Los Angeles, Sherman Oaks, Encino, Beverly Hills, Whittier, Long Beach, and Woodland Hills for thousands of homes in these cities and surrounding areas. We cover a wide range of applications and designs.
We save you the time, energy, and money on creating and installing a retaining wall because we have plans, techniques, and engineers who are ready to go and experienced crew members who are ready to install. We build up to code and our relationship with local building departments will always 100% of the time ensure a dedicated and easy process to achieve the results you are after. If the wall is less than 3′ in height, city permits will not be required.
There are many kinds and types of retaining walls, ranging from decorative garden walls to engineered retaining walls. You can even opt for a wood retaining wall. Retaining walls are commonly designed to hold back soil to prevent down-slope movement or erosion.
Retaining walls are constructed with reinforced concrete block or cast concrete or Shotcrete.
A Concrete Retaining Wall is constructed by using reinforced concrete blocks which are reinforced with steel or rebar and then filled with concrete. Also commonly known as "Pour and Place Retaining Walls."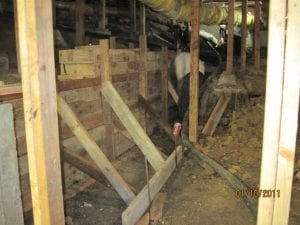 Case Study: Weinstein Retrofitting Systems recently designed and installed a retaining wall project beneath a home in Hollywood Hills in the basement area to retain the soil and protect the home from shifting due to soil erosion. This project was done per engineering design and per city plans and permits. All work was approved and finalized and our firm was complimented by the city inspector for going above and beyond on execution and final look.
We will be happy to come out to your property and give you a free inspection so we could let you know how much the retaining wall cost is going to be.
Shotcrete Retaining Walls
A Shotcrete retaining wall could be poured either plain smooth or with a desirable design that fits the surrounding area. Retaining walls exceeding 3 feet in height require an engineered plan and sometimes require a Geologic and Soils Report to determine the right specifications. Shotcrete Retaining Walls are dependent upon the need and will be specified in plans with proper reinforcing steel and then filled with concrete.
For a definition, please read about Shotcrete.
Case Study in Pasadena, CA:
Materials utilized are Shotcrete, vehicles, drainage, and caissons, including steel and rebar: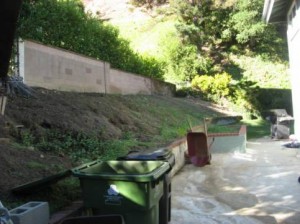 1. Before photo of the retaining wall and garden plot that cannot sustain the slope movement of the soil.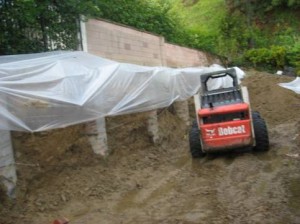 2. Demo of the grass lot and installation of caissons in front of the existing retaining wall. These caissons will hold the new retaining wall in place.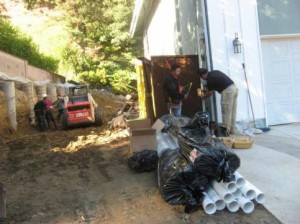 3. Drainage PVC pipes arrive on site. Rainwater runoff will travel through the rain drains instead of traveling against and through the new wall.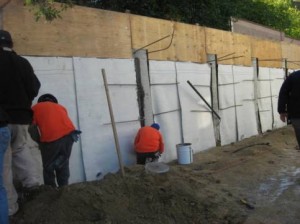 4. Wood and sheeting is constructed and installed to shape the wall and enclose the caissons.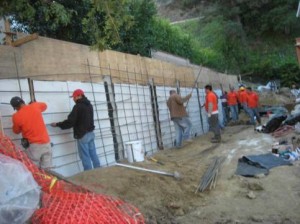 5. Rebar is installed all along the walls for the Shotcrete to be sprayed into place.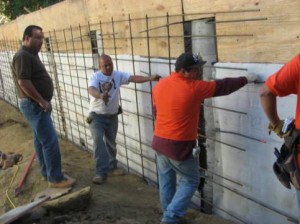 6. The rebar is carefully measured and put into place onto the wall grid.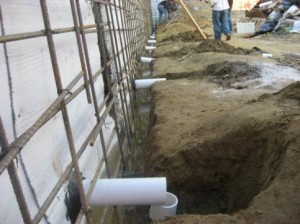 7. Once rebar is set, the PVC piping is installed into the wall and breaks into the ground where excavation has taken place to retain the water below the surface.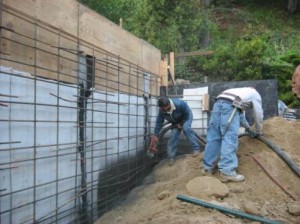 8. Shotcrete is pumped and sprayed onto the wall at the bottom along the footing.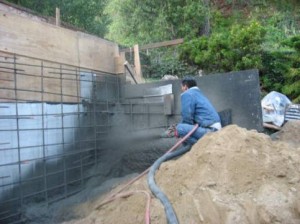 9. A thick layer of Shotcrete is being applied.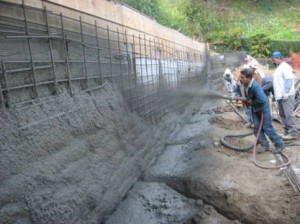 10. The crew Shotcretes the rest of the length of the retaining wall with a thick layer.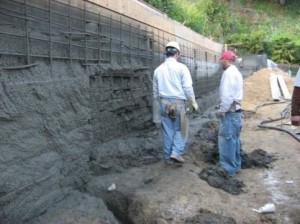 11. The project manager performs a walk-through to ensure that the footing is all set with Shotcrete.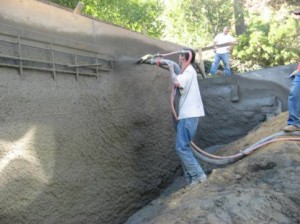 12. The crew continues to Shotcrete the remaining portion of the wall.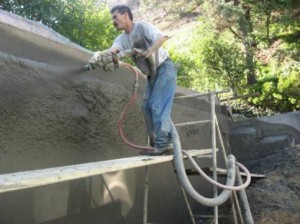 13. Finishing touches of pouring the Shotcrete.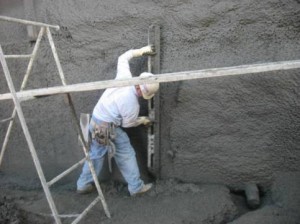 14. The wall is smoothed out.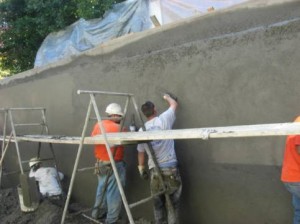 15. Detail smoothing.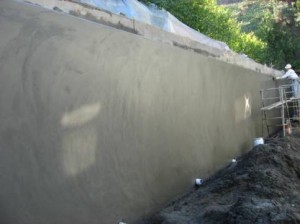 16. Detail smoothing at the very top of the wall.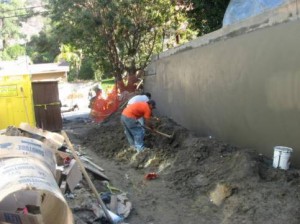 17. Soil is graded and placed back for natural look and practical application.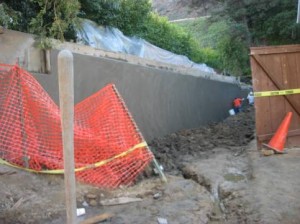 18. Last touches of placing and grading soil and getting ready to dry.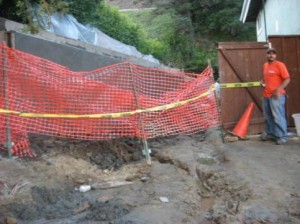 19. Wall is finished, drying, and made ready for stucco or color finish if desired by homeowner.
For another alternative to retaining walls, learn more about gabions and gabion walls.
Click for more images on retaining walls and let us know how you want yours designed! We are the leaders in retaining walls los angeles!
Call Toll-Free (877) 690-0926 Inspections are FREE for Homeowners throughout Southern California!