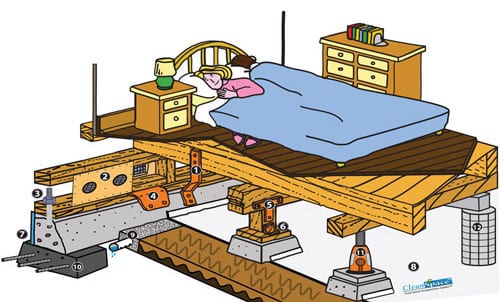 The image above displays a couple resting safely on a retrofit foundation
with our products: (Roll over a number on the image above to learn more)
Weinstein Retrofitting Specializes in Basement Projects
including new basement construction, and basement development, from vision to plan to finish!
---
Develop, Construct, and Waterproof Your Basement
Basic Construction Methods
To construct a basement into a home, our basic construction methods begin with digging a hole bigger than the foundation and its walls to seat the structure inside. These steps are as follows:
First, there is digging of the virgin soil, creating an enormous hole.
The footing is installed inside. This footing is the base of your foundation and is very important. It keeps your house from sinking into the ground and must be strong enough to withstand the continuous forces of nature, including earthquake movement and shifting soils.
The walls are built of poured concrete, block, stone and (rarely) out of treated wood. Some of the dirt removed by the excavation is backfilled in over the footing.
The floor is poured between the walls on top of the backfill.
Usually, a footing drain is installed at this point. Most often, this drain consists of a perforated pipe that lies in a bed of 3/4″ of gravel. The purpose of the gravel is to filter the dirt out from the water.
Once the construction has been completed, some of the soil was dug out of the hole when the foundation was dug is backfilled back in. Often, this is done very quickly and is backfilled with any stones and other debris that was present in the original soil. This can be a big shock to the cement, which usually has a long way to go before it's cured, and can cause cracks to form. This backfilled soil is looser than the virgin soul around it and will continue to be so for the life of the house. Backfilled soil is looser than the virgin earth and absorbs water more quickly.
Basement Creations by Weinstein Retrofitting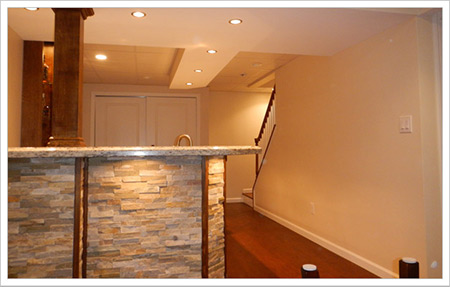 Weinstein Retrofitting Systems is your direct basement contractor, serving Los Angeles, Long Beach, Ventura, and surrounding cities. We have been in business longer than any professional basement contractor and basement product dealer in Los Angeles and the San Fernando Valley!
We're here to protect your existing basement, remodel your basement into your dream space, or construct a brand new basement addition to your home, before or after your home has been constructed!
Weinstein Retrofitting is Southern California's leader when it comes to basement construction and basement repair, from start to finish. We're with you every step of the way. Some of our basement products come with service warranties, because we provide our clients with products and services we can stand behind in the long-run.
As basement repair experts, no one knows basements better than Weinstein Retrofitting! We have the skills, labor, and resources to provide you with an excellent construction experience. We're here to help you succeed with your basement goals!
Weinstein Retrofitting has been a general contractor, constructing homes and buildings from the basement up since 1977. Weinstein has built over 1,000,000 square feet of building space and has grown to specialize in new basement construction.
Our other specialties include basement waterproofing, basement finishing, basement remodeling, and wet basement repair. As waterproofing experts, we know the importance of keeping your basement dry permanently.
Contact us today and see for yourself why we're the best in the basement construction industry in Southern California.
Whether you are looking for someone to build a basement per plans for your new dream home, fix bowing basement walls, waterproof your flooding basement, remodel an existing basement, or transform the dirt crawl space under your home into a brand new habitable basement area, Weinstein Retrofitting Systems is your direct basement contractor, serving Los Angeles, Long Beach, Ventura, and surrounding cities. We have been in business longer than any professional basement contractor and dealer in Los Angeles and the San Fernando Valley!

Top
We can assist with any of your basement goals
Basement Construction for Your New Dream Home, from plan to finish or any step of the way.
Fix Bowing Basement Walls, and other signs of wet basement damage.
Waterproof Your Flooding Basement – restoring your basement from disaster and protecting it from future basement flooding disasters.
Remodel an Existing Basement – add or reduce space and help you reach your vision.
Basement Finishing – transform your basement into the space you've always dreamed of. We can help you turn your basement into a gym, recreation room, sports bar, wine cellar, children's space, meeting room, or any other type of specialized space that you have in mind.
Transform the Dirt Crawl Space Under Your Home into a Brand New Basement; our top experience level combined with our skilled craftsmen, organized project managers, and unique resources allow us to stabilize your home as we dig underneath to create a brand new basement.
Contact us today to schedule an inspection!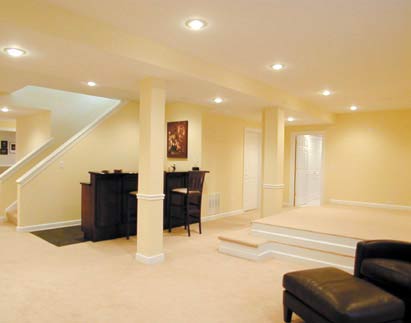 Given the right soil conditions underneath your existing home, you can create or build a new basement addition to add square footage and additional space. Whether you are looking to increase storage space, build a gym, wine cellar, family room, kid's room, or any other kind of specialized space, a new basement can add more value to your home.
If you have bowing basement walls that lean or cave in, or cracks in the concrete walls, then we have the solutions to repair your basement and protect it from future deterioration. Cracks in your basement occur due to water damage or shifting of soils. With proper engineering techniques you can implement effective basement repair solutions.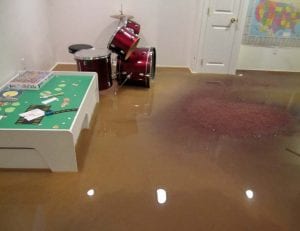 Basement flooding can cause you to lose several thousands of dollars worth in property damage as well as the loss of all the years you've spent collecting those stored valuables. A flooded basement can also damage utility equipment and create a dangerous environment. An untreated flooded basement can invite swampy insects and mold spores to your home. Flooded basements can occur due to failures in the sump pump system which can cause water to stand and stay.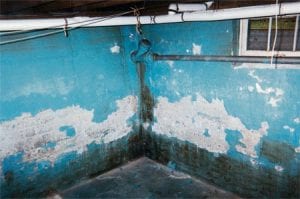 Leaking basements occur due to water seeping through the concrete walls, which is a sign that water does not drain properly away from your home or basement. With special drainage products, you can prevent any basement from leaking, effectively and permanently. Before commencing any new basement project, it's crucial to making sure that your basement is dry first.
You can construct a new basement as an addition to your home without altering the condition of your home. If you have adequate yard space, then constructing a basement off to the side of the home will add space and value to your property.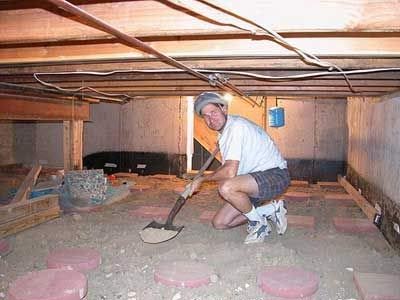 With proper stabilization using a variety of methods such as steel beams and proper shoring of your home, you can dig the clay soil underneath your home to build a new basement. Soils conditions must be tested first to ensure that the depth allows for digging. If the subsoil consists of bedrock, then it may not be possible to dig deeper under the crawl space.