Floor Leveling Los Angeles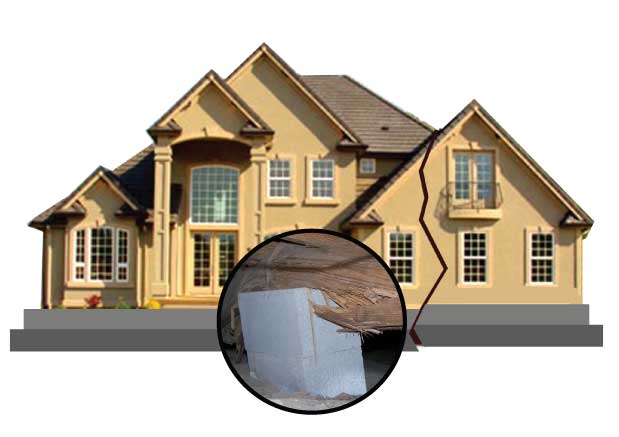 Weinstein Retrofitting Systems offers house or foundation floor leveling services in Los Angeles, and surrounding areas in Greater LA, SFV, OC, and Ventura.
We are a full service floor leveling contractor. Floor leveling is a process of restoring your home near its original position.
Floor leveling is required when the foundation has shifted or experiences sinking. To lift and level the foundation of the home, the dwelling must go through a series of steps to raise it. First, support is added through a process called shoring. During this step, beams attached to hydraulic jacks are inserted under the home. Slowly and carefully, these jacks are evenly raised, which help to prevent damage to the home. Floor leveling is a delicate process where fixtures, tiles, cabinets, or walls may crack or break, and this type of work should be handled by an experienced contractor. When the jacks are raised the right amount, new concrete piers and wood posts are added; these new piers hold the adjustment in place. With an experienced contractor, this work can be completed in a structurally sound manner making the home safer to live in and easier to protect.
Weinstein Retrofitting Systems has provided floor leveling services to thousands of satisfied customers!
WARNING SIGNS OF A NON-LEVEL HOUSE

1. Doors and windows do not open and close properly
2. Cracks in your walls (interior and exterior)
3. Bumps in your floors
4. Squeaky floors
Many homeowners live with sloping floors, doors that won't open and cracking walls. Most floors can be leveled and returned to their original position. This work can be completed in a structurally sound manner making your home safer to live in.
Floor Leveling Symptoms are Hard to Ignore
Floor leveling is the first step towards bringing a house back to its original state when the floors are sloping. Many homeowners live with sloping floors, doors that will not shut, and windows that are hard to close. Cracks form along the walls, there are bumps in the floors, and very commonly, floors will squeak. Homeowners find it troubling to get a glass of milk in the middle of the night without waking up the entire household. Worse of all, these sloping floors are generally caused by a shifting or sinking house, and this poses serious safety issues, especially when there are children who reside there.
Floor Leveling of Older Homes is an Important Measure in Earthquake Country
In Earthquake Country, in Los Angeles and Southern California, a shifting or sinking house has one grave consequence: the Big One may cause a home with severe sloping floors to slide off its foundation completely. This kind of damage will incur thousands upon thousands of dollars in damage, not only due to the loss and damage of valuables within the home, but also the loss and damage to the structure of the home itself. At this point the repairs are no longer an investment in the home, They are a necessary to regain a family's lifestyle. Acting fast is the best way to protect your interests and your loved ones, providing you with peace of mind.
FLOOR LEVELING CONSTRUCTION PROCESS
How is Floor Leveling Measured?
Overtime, due to sinking and shifting, the floors may not stay in place. They fluctuate in differentials from ½" to severe cases of 5" or more. This can be measured via a manometer survey, where lasers are used to calculate the slope of the entire floor area by calculating any point, usually in the center of the home, as 0". A good way to test how severe the floors slope is by placing a marble on the floor and watching it roll. If it rolls fast, then floor leveling is definitely something to be greatly considered.
Floor Leveling May Need Additional Stucco Patching
Homeowners should be mindful that in order to level the floors of a home, the side stucco at the bottom perimeter is usually stripped off so the support beams can pass through and the house itself can be adjusted without compromising the rest of the exterior walls. Once the home is evenly raised, the stucco can be placed back and matched to paint, the last touch for any homeowner's peace of mind.
If homeowners are looking to install new floors but have floor leveling problems, then think again.
If you believe that the condition is more severe than needing floor leveling services, then the best option is to contact us and schedule a free inspection, as well as read more on foundation repair.
In the drawing down below you can see how the floor leveling process is performed: