Crawl Space Protection for California Crawl Spaces
Crawl space protection is needed because there are three things that destroy materials in general, and wood in particular: Water, Heat and Ultra-Violet Radiation. Of these, water is the most important. Then there's all the bugs, insects, rodents, snakes and pests, and not just in dirt crawl spaces, a great place to thrive and reproduce with an even temperature, moisture, damp wood and shelter, but also in concrete crawl spaces.
Mold spores are in the air everywhere. All they need to grow is organic material such as wood, the right temperature range, and moisture. Of these, the only one that can be controlled is moisture.
Dirt crawl spaces have high humidity levels necessary for mold growth. Humidity levels from 50% to 90% are easily found in dirt crawl spaces that have never flooded and problems can be worse in the ones that have.
Mold can grow on dirt, insulation, framing and even under your carpet on the first floor! Mold destroys organic materials as it feeds on them. Mold reproduces by shipping out millions of floating airborne spores, which many people are allergic to – especially young children and the elderly. Spores can be dormant for many years, waiting for the right conditions to grow. Some molds produce mycotoxins, such as the black mold, Stachybotyrs. Many articles can be found on the effects of mold and toxic mold.
Dr. Harriet Burge, an expert in airborne diseases at the Harvard School of Public Health, may agree with the benefits of crawl space protection, and says, "Mold in houses is not a good thing. It could lead to asthma. Houses with mold are damp and have dust mites and other things in them that can cause illness, especially in children".
Because of the high humidity levels in dirt and concrete crawl spaces, cool surfaces such as the earth at 55 degrees, concrete and metal surfaces, such as your pipes and ducts, will swell with water vapor that condenses on them. This causes rot, smells, rust and is a water source for critters.
We know how to install the right crawl space protection because we know that mold will not grow when the humidity levels are reduced below 40%.
Moisture is the prime factor that causes structural damage. Over time, rot and decay from a moist environment damage wood framing and steel structures alike.
Crawl Space Protection Solutions:
We are the Crawl Space Protection Experts!
The Clean Space Crawl Space Encapsulation System completely isolates your home from the earth and offers incredible crawl space protection. Clean Space dramatically reduces the humidity level in the air, which will reduce or in most cases, eliminate mold growth, rot and critters from your crawl space and make the whole house healthier! The Clean Space Crawl Space Encapsulation System can be used with the SaniDry Basement/Crawl Space Air System to complete your moisture and crawl space protection.
Weinstein Retrofitting Systems understands that the old way of crawl space design is just not adequate for a healthy, long-lasting crawl space and home, which is why we devote so much of our services to crawl space protection. Crawl spaces all over CA suffer from mold, rot, termites, rodents, structural sagging and fatigue, and countless other problems that all stem from crawl space vents, dirt crawl spaces, and other outdated, ineffective building practices.
Weinstein Retrofitting Systems is proud to offer our customers the Clean Space Crawl Space Encapsulation System for maximum crawl space protection. This line of crawl space vapor barriers, crawl space encapsulation products, crawl space vents, crawl space doors, crawl space sump pumps, dehumidifiers, crawl space structural supports and other crawl space products continuously invented combine to give us a solution for any and all your needs. We offer the following patented and warranted products to help keep your crawl space dry:
The Clean Space Crawl Space Protection Vapor Barrier is a 20-mil thick polyethylene liner that's similar to a pool liner. Constructed in seven layers, it includes a high-density polyethylene, low-density polyethylene, and two layers of polyester cord reinforcement that combine to make the material durable and tear-resistant. A 25-year warranty assures you a long life and good value and allows homeowners and servicemen alike to access the crawl space with no worries of damaging or ruining the material. Once the entire system is installed, the crawl space in CA will be completely isolated from the outside air and earth, and can even be used for storage, freeing up space in your home.
Your home will experience less moisture and humidity, and without outside winter cold and summer humidity, your home will be better preserved and more energy-efficient. And with its white outer layer and Ultra Fresh antimicrobial additive, your crawl space will look bright and clean for a long time to come!
Weinstein Retrofitting Systems offers free estimate for Clean Space Crawl Space Protection Vapor Barrier Systems in CA. Contact us for a Free Estimate Today!
In crawl spaces with concrete floors, Weinstein Retrofitting Systems of Los Angeles, California will usually recommend installing a crawl space protection drainage matting underneath the crawl space protection vapor barrier. This drainage, created from a dimpled polyethylene matting, creates raised spaces that allow water on top of the concrete floor and be guided by the matting to the sump pump. This keeps water from collecting under the Clean Space crawl space protection vapor barrier and ensures a healthy, effective system.
Contact us for a free estimate for crawl space protection waterproofing in CA.
Installing a crawl space protection vapor barrier comes with one important challenge: covering the entire wall to protect moisture from passing through. If we coat all the walls and floor with an opaque covering, how will termite and pest inspectors be able to check for infestations?
Image on the right shows WallCap being installed in a crawl space with block wall.
A proper crawl space protection vapor barrier in Los Angeles, California should be installed with a space left at the top around the entire edge to accommodate for this. This way, the common signs of an infestation- such as mud tubes from termite paths, can be easily sighted without needing to remove the layer. Covering the tops of block walls will also protect your home from the enormous amount of exposure that the block openings adds to the home, helping to prevent moisture from passing upwards behind the Clean Space and into the crawl space air.
This product is called WallCap and is available only through Basement Systems dealer network in California: Weinstein Retrofitting Systems. Image on the left shows how our Clean Space vapor barrier blends in with WallCap for ultimate crawl space protection.
Contact Weinstein Retrofitting Systems for a free inspection and estimate for crawl space protection.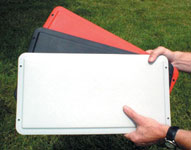 Weinstein Retrofitting Systems, building scientists, and the US Department of Energy agree that a vented crawl space in all climates- warm and cold- is a bad idea. Allowing hot summer air into the space will cause it to cool in the cooler crawlspace. As the air cools, its relative humidity will rise, and moisture will deposit on all surfaces in the CA crawl space, allowing damaging mold to flourish and making the wood damp and perfect for termites. In the winter, the cold air that enters will cool down pipes, furnaces, water heaters, heating ducts, and the floorboards above, creating a drain on utility bills and an uncomfortable surface to walk on above.
Weinstein Retrofitting Systems addresses this problem by installing airtight craw lspace protection doors and crawl space protection vent covers. These, combined with the Clean Space vapor barrier, will turn the crawl space into part of the housing envelope and keep outside moisture from intruding.
Contact us for a free crawl space protection estimate in Los Angeles, California.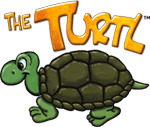 Access wells for crawl spaces are notoriously ugly, rotting, and deteriorated spaces. There is generally no attempt to create an airtight seal, and air is allowed to flow freely from the outside into the area, bringing humidity and moisture in your California crawl space.
The Turtl addresses these crawl space protection problems by providing a durable crawl space entrance that is designed to seal out outside cold and moisture. Its design is secure and lockable, and because it will never rot, rust, or corrode, it will stay clean and great-looking for a very long time to come. When it comes to crawl space protection doors in California, there is nothing like it!
Available colors for Turtl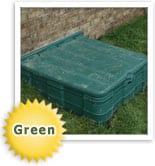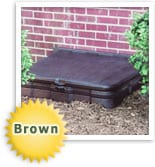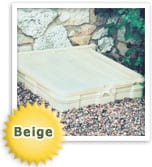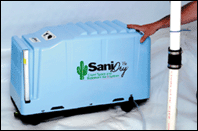 Crawl space humidity has been plaguing homes in CA since the day the first one was built. Allowing humidity to go unchecked in the space leads to rotting floors and support beams, buckling floors, foul odors, flourishing mold, dust mites, rodents, small animals, and insect infestations. To make matters worse, the air in a crawl space is drawn into the rest of the house as warm air rises and exits through the upper levels, creating a vacuum below. To put it simply- if it's in the crawl space air, it will find its way into the home. Crawl space protection may not sound more critical!
Weinstein Retrofitting Systems recognizes how serious this problem is, and they have responded with the SaniDry CSB – the best crawl space dehumidifier on the market! This Energy Star rated dehumidifier is powerful enough to take on the challenges of crawl space humidity at about a third of the energy usage of the standard models sold in hardware stores. It includes a powerful 200cfm blower that will send the dry air circulating throughout the crawl space, and in time it will even dry out wood piers and sub floors. It is able to drain moisture out of your home automatically, with no need for a collection tray. And a filter installed with each model will remove particles in the air as small as 2 microns – smaller than dust mite waste and most mold spores. Your air will be healthier than ever!
Contact Weinstein Retrofitting Systems for a free moisture control estimate in CA.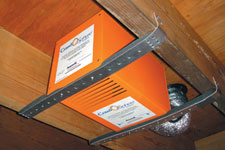 An alternative to a crawl space dehumidifier in Los Angeles, CA, with some of the benefits, is the more budget-sensitive Crawl-O-Sphere Crawl Space Fan. The Crawl-O-Sphere Crawl Space Fan is designed to pull a small portion of the drier, conditioned air from the upstairs down into the crawl space area. This fan utilizes the air already in the home and is a quiet, energy-efficient solution.
Because these fans are installed along with the Clean Space crawl space vapor barrier and Weinstein Retrofitting Systems airtight crawl space vent covers, the air it moves is all part of the home's envelope, which means that there will be almost no additional expense on your utility bills. And its 18-watt design is a quiet, energy-efficient crawl space protection solution for your home!
Contact Weinstein Retrofitting Systems for a free moisture control estimate in CA.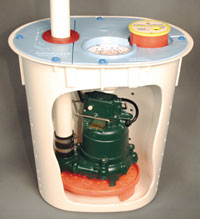 A vital part of keeping a crawl space dry is to make sure that crawl space flooding is addressed. Weinstein Retrofitting Systems of Los Angeles, California is ready for the job, providing SmartSump Crawl Space Protection Drainage System.
This crawl space protection sump pump includes a heavy-duty sump pump liner and cast-iron 1/3 horsepower sump pump. A stand is installed at the bottom of each sump to keep the pump off the bottom of the liner and away from any residues, and a WaterWatch alarm on top will warn the homeowner of any sump pump failures or plumbing leaks. A special ball-in-cup design allows the sump to drain away water leaks while remaining airtight and perfect for your crawl space protection needs.
The SmartSump crawl space protection sump pump also comes with an optional battery backup UltraSump system. This backup sump pump is specially designed to run in the case of the primary sump pump failing, becoming overwhelmed, or losing power. The UltraSump is able to pump out an amazing 11,500 gallons of water on a single charge- enough that you can sleep easy, knowing the space will be dry all the time!
Contact Weinstein Retrofitting Systems for a free crawl space protection moisture control estimate in CA.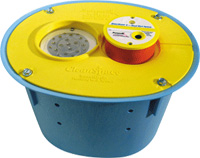 If you decide that a crawl space protection sump pump is not necessary, there is still an option available that can easily and cost-effectively offer your crawl space protection from filling with water in the case of a plumbing leak: the SmartDrain. This crawl space protection drain is able to install into a Clean Space crawl space protection system without compromising the vapor barrier and includes a WaterWatch alarm that's able to sound off to warn you of a leak should one occur. Any water entering into the crawl space will first sound off the alarm and then be drained underneath the liner into the earth below. This is a great idea for your crawl space!