Caissons Contractor | Caisson Drilling | Caissons Los Angeles
Caissons and Caisson Drilling in Los Angeles, SFV, OC, and Ventura
Weinstein Retrofitting Systems has been providing caissons and grade beams for homes and commercial properties for over three decades. With multiple applications, from tall rise apartment building foundation supports, hillside home stabilization, to retaining walls, caissons are the perfect way to protect your investment in heavy load circumstances.
We are foundation and structural support experts. We save you the time, energy, hassle, and stress of planning, designing, engineering, and finalizing all projects, large* or small. We complete each and every caissons project with aplomb and provide you with the most desirable results. We are the #1 Foundation Experts in Southern California!
*Commercial companies or agents may contact us for discussion on large commercial projects such as bridges, underpasses, freeways, or any other caisson drilling and application opportunity.
Caissons are deep foundation supports that are constructed by placing fresh concrete and reinforcing steel into a drilled shaft. These reinforced concrete piles are cast in holes of predetermined diameters and depths drilled through soil and rock to the desired bearing stratum.
Caissons, which are capable of supporting high, concentrated loads, are typically used to set piers for bridges, underpasses, structural supports, as well as in slide prevention applications. Caissons are viewed as a reliable, versatile, and economical foundation support solution.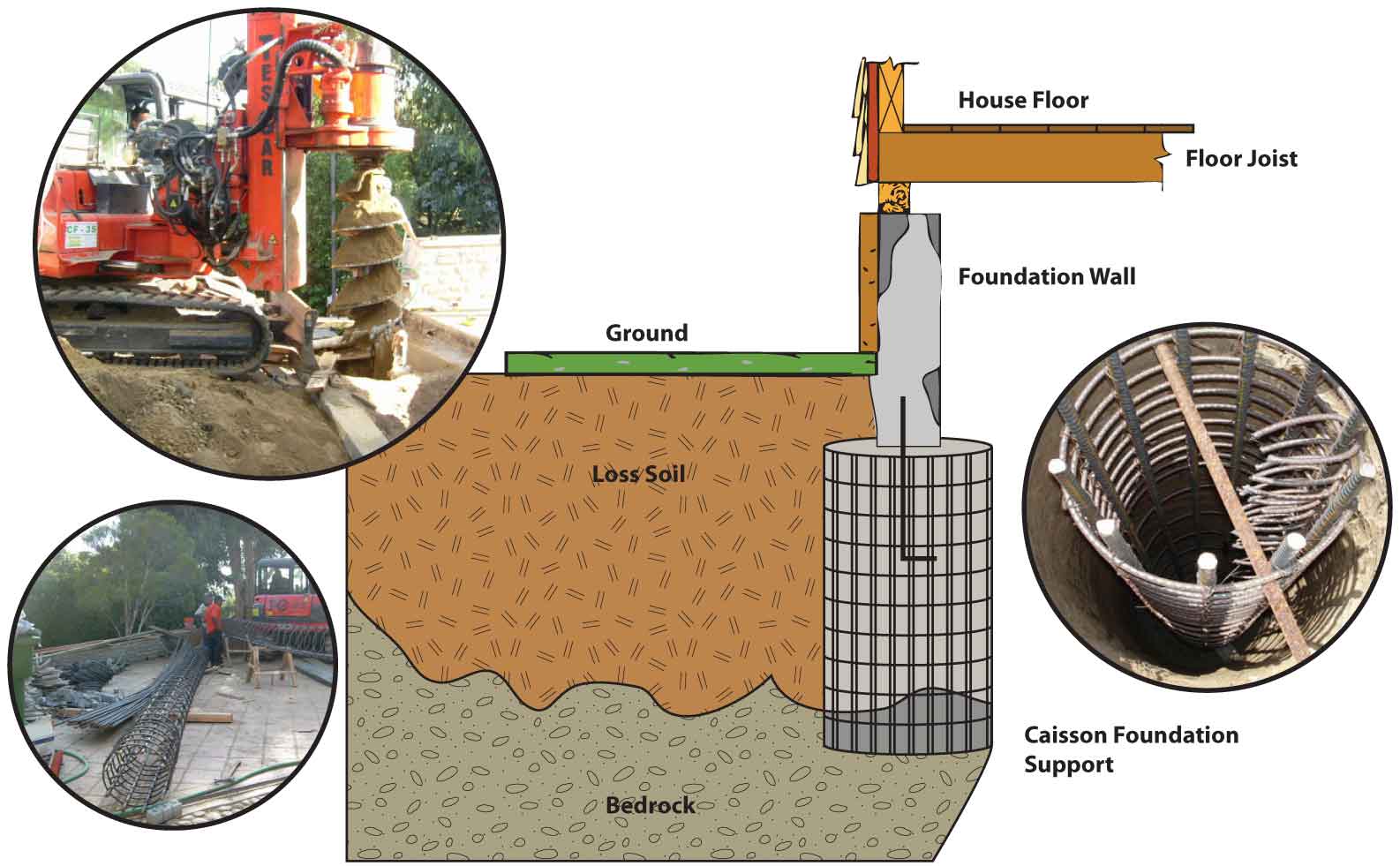 Caissoning work is the process of drilling 24″-36″ round holes in the ground all the way to the bedrock and is used to prevent a house from sinking, especially houses on hills.
The Los Angeles Department of Building and Safety require caissons as part of new construction, and/ or addition of a house on hills, or on surfaces where recommended by soil engineers.
Caisson drilling for foundation applications usually requires the use of grade beams: concrete beams that connect the caissons to one another and hold them in place. They are built into the ground with reinforcement steel or rebar and then concrete is poured into place. Grade beams have several other uses and are very common in caissons for hillside homes.
Caissons and grade beams for hillside support are the best protective measures a homeowner can take to ensure that his or her hillside home is stabilized and does not slide off in landslide failure.
Caisson drilling is an arduous craft. Always choose the right contractor when installing caissons; always go with a caissons specialist. It is labor and machine intensive, and the contractor may need to break open concrete on narrow sides of homes to permit the passing of construction vehicles and equipment. A wall may need to be broken if the small drill cannot pass through. If the wall is too close to the side of the home and to the other side of the neighbor's home, special helicopter assistance may be needed, though this is very rare.
Caissons Require Special Planning, Engineering, Labor, and Materials
Weinstein Retrofitting Systems are caisson drilling and foundation experts. We have installed thousands of caissons across Los Angeles, San Fernando Valley, Orange County, and Ventura County. We are the leader in this field across Southern California!
To determine if your home or property needs caissons, one of our inspectors will travel to the site, assess the area, take measurements and pictures, and will walk you through the process of what is happening at the location, if caissons are needed, and an idea of how the work will happen at that particular location. Every home or property is unique, so every visit will be unique as well. Once the initial site investigation has taken place, the solution provided to every homeowner will also be a unique one. Our inspections are free of charge and are no obligation.
Caissons may also be utilized in shotcrete retaining wall applications to hold back soil from sliding into hillside properties. They are extremely durable and almost completely impenetrable. Their function is to resist extreme loads.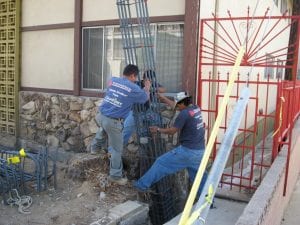 Weinstein Retrofitting Systems has the experience, manpower, as well as outstanding engineers to provide you with the best caisson solutions throughout Los Angeles, Malibu, Hollywood, Whittier, Long Beach, Glendale, and Burbank.
If you have a hillside property or if the soils condition or some other circumstance has created the need for caissons, then Weinstein Retrofitting Systems can help.