Efflorescence
What is Efflorescence?
Efflorescence Found on Your Concrete Foundation Walls
If your home has efflorescence, you can detect this by looking at the concrete in the foundation or crawl space of your home. Do the concrete walls have white swirls or white film all over them? That's possibly a sign that action needs to take place to mitigate moisture intrusion problems and to clean the walls from this highly deteriorate substance.
Efflorescence is a buildup of salt.
It isn't hazardous to your health, and efflorescence can be cleaned. However, if gone untreated, it can deteriorate the foundation and it is still a sign of a greater moisture problem.
Weinstein Retrofitting Systems can help you today with efflorescence on concrete when you call to schedule an inspection in Long Beach, Los Angeles, Santa Ana, Anaheim, Huntington Beach, Oxnard, Glendale & nearby.
Our goal is to prevent efflorescence from building up or to stop it from happening again.
Call Toll-Free 866-303-8987
But what exactly is efflorescence?
Efflorescence is different types of salts found on cement, normally Portland cement, and happens due to water movement, pushing hydroxides to the surface of the cement and combines with carbon dioxide to form calcium carbonate. It looks more distinguished on colored concrete due to the contrast.
Where does efflorescence come from?
Efflorescence comes from water, admixtures, cements, or aggregates, and travels through the tiny open channels of the concrete. Concrete does not need long once it's been exposed to rain, dew or moisture to form efflorescence on the surface, and moisture from the subsurface also aids in the formation process.
Where is Efflorescence Commonly Found?
– Concrete Walls
– Concrete Footing
– Concrete Slab Surface
– Driveway Surface
– Mortar and Bricks
– Basement Walls
– Crawl Space Walls
– Masonry Retaining Walls
How do you put a stop to efflorescence?
To prevent efflorescence, moisture must be blocked and the best way to do this is with a vapor barrier. The other option is to apply a sealer or coating to the concrete once it is dry and clean.
You can clean efflorescence, and depending on the stage of its formation will require different methods. Cleaning the efflorescence is a carefully planned process which uses precision to control the effects once everything has been cleaned and restored. From rinsing to acid washing, the approach is different depending on the stage of the efflorescence formation.
What is the negative effect of efflorescence?
Efflorescence can discolor any specially ordered concrete. A better way to interpret this is to consider the negative drawback of concrete: all concrete has efflorescence; it's just a matter of the condition of the concrete's environment that determines how severe the efflorescence will appear.
Is efflorescence dangerous to the health of human beings?
Efflorescence is not commonly associated with being dangerous to health. It is structurally dangerous since it signifies a sign of moisture problems, and moisture can severely weaken a structure.
What's the difference between efflorescence and MOLD?
Mold spores form due to water problems and other spalling on concrete, and is commonly mistaken with efflorescence. Mold spores, unlike efflorescence, are extremely bad for your health, and both can be caused by water intrusion problems. There are mold spores that look like efflorescence, and sometimes it is hard to tell the difference between the two.
Does efflorescence have a taste or smell?
Efflorescence has a smell and taste of salts, perhaps the type commonly found by the ocean on rocks. It has a distinct taste of salts and we never recommend to taste it as a way of determining whether or not it is efflorescence. It is the same material that is found on the shells of snails and other marine crustaceans.
Efflorescence and local building codes
There is little to no mention of efflorescence in local building codes. However, it is a common concern and point of reference for foundation waterproofing and other concrete-related building matters.
Why Weinstein Retrofitting Systems is the Best in Efflorescence Treatment and Prevention
Efflorescence is merely a symptom of something greater, and like visiting a doctor, a symptom is concern for investigating the rest of the system to ensure all components are working healthily together.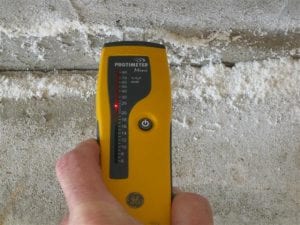 Let Weinstein Retrofitting Systems be the doctor to your foundation today. Homeowners receive a FREE diagnosis on what may be causing efflorescence in their crawl space or basement. If we detect a problem, then we will draw up a plan to permanently mitigate and stop the problem especially before it's too late.
Rain or shine, Weinstein Retrofitting Systems has the techniques and skills to determine any moisture problems under or around your house.
Our well executed water tests can determine the source to most moisture problems. We offer solutions year-round.
Crawl space moisture is a common reason why you may have efflorescence built-up on the concrete walls or footing of the raised foundation under your home. Solutions may include a sump pump, drainage pipes and a vapor barrier.
By contacting Weinstein Retrofitting Systems today to schedule an inspection, you are taking the best step to determine what exactly is causing the efflorescence, how much damage is it really doing, and what can be done to stop it effectively and permanently.
Call Toll-Free 866-303-8987
Inspections are FREE for Homeowners throughout Southern California!