Concrete Slab Repair Experts in Los Angeles, SFV, OC, and Ventura
We offer Comprehensive and Critical Concrete Slab Repair Solutions!
Weinstein Retrofitting Systems is the #1 Concrete Slab Repair Experts in all of Southern California! We work so often on concrete slab repair projects that we often find giving our clients the best deals on the market, including labor and materials. Our inspections are free of charge, and our concrete slab repair solutions will leave you speechless at a job well done!
We've performed thousands of jobs throughout Los Angeles, Long Beach, Santa Barbara, Hollywood, Sherman Oaks, Van Nuys and Glendale, and surrounding areas.
Concrete Slab Repair Solutions can include the following:
Concrete Slab Repair and Replacement
Concrete Slab Crack Repair
Concrete Slab Floor Leveling
Foundation Slab | Reinforced Concrete Slab | Weinstein Retrofitting
Weinstein Retrofitting repairs the following concrete slab problems:
Concrete Settlement | Concrete Spalling | Slab Settlement
What is a Slab?
Concrete slab is a shallow, reinforced-concrete structural member that is very wide compared to its depth. A concrete slab is, typically between 3″-4″ thick, and is most often used to construct floors and ceilings spanning between beams, girders, or columns, while thinner slabs are also used for exterior paving.
Concrete slabs are built on the building site using form-work, a type of boxing into which the wet concrete is poured. If the slab is to be reinforced, rebar is positioned within the form-work before the concrete is poured in.
Weinstein Retrofitting Systems can check the condition and will offer the best concrete slab repair solution to your broken slab. We've performed thousands of concrete slab repair operations throughout Southern California since 1977!
The following symptoms indicate if you have a broken slab:
Unleveled floors
Broken floor tiles
Sloping floors
Bumps in carpet
Cracks around windows and door frames
Sticky doors or windows that are difficult to open and close.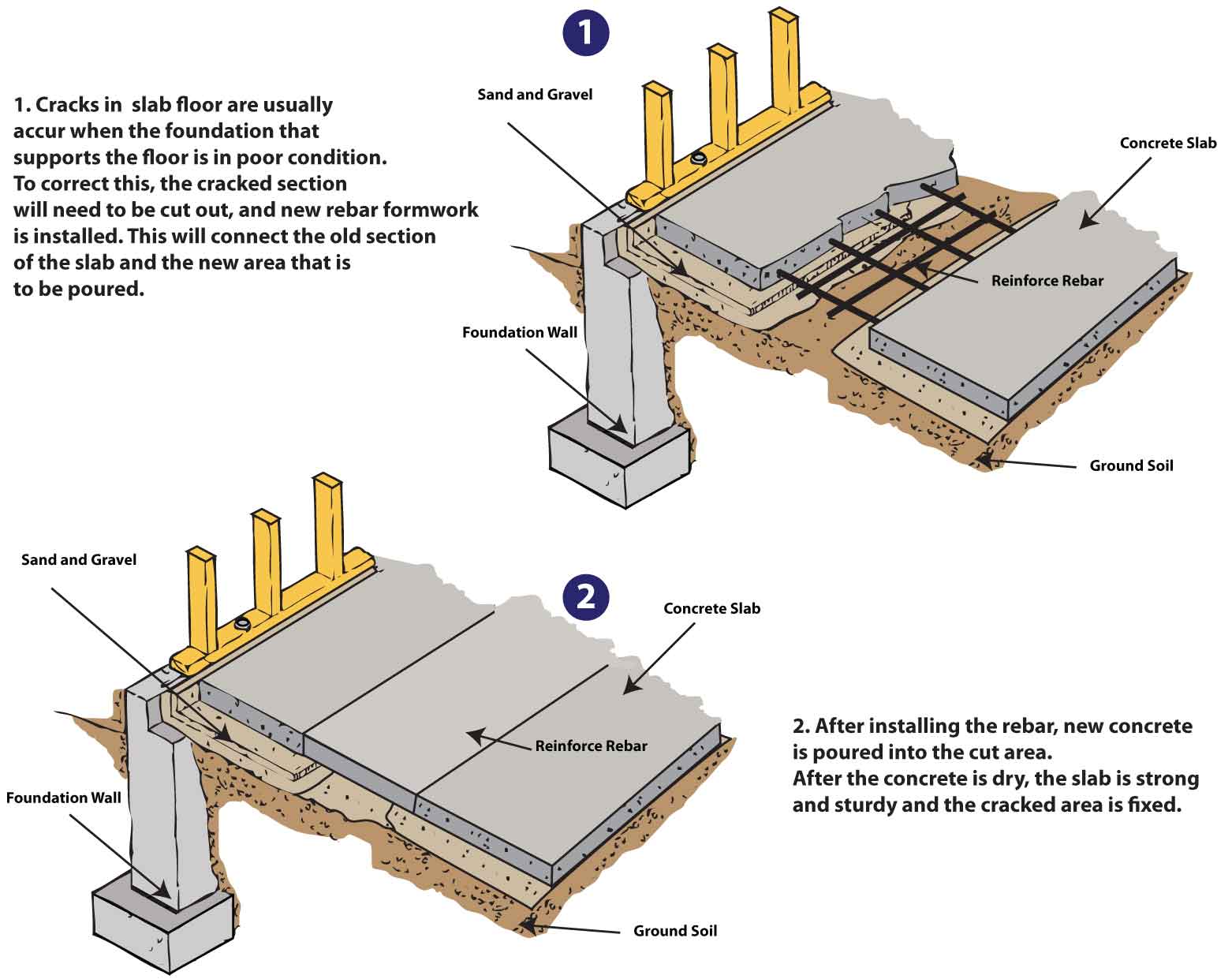 In the picture down below you can see the process of slab repair: