Drainage Systems in Long Beach, Los Angeles, Santa Ana, Anaheim, Huntington Beach, Oxnard, Glendale & Nearby
Drainage Systems Installation Contractor in Greater Los Angeles
Here at Weinstein Retrofitting Systems, we specialize in protecting homes and buildings from water intrusion due to rain water, lawn irrigation, or soil erosion. We offer a wide array of exterior drainage systems to design the best drainage solution unique to your home or property in Los Angeles and surrounding areas.
Drainage systems
are necessary when water does not properly drain away from your property.
Water retention can do serious damage to the base structure of your home.
In severe cases, a heavy rain can cause your house to flood inside.
For the Rainfall Season, Check Out:
Drainage problems cause damage underneath the home in the crawl space or basement, doing damage to the concrete footing and basement walls. They are difficult to stop because the source of these problems are sometimes difficult to find. We've inspected hundreds of homes where the homeowners have made an effort and some of the attempts have seemed to us to be temporarily effective. But because most of these efforts are "patchwork" efforts, the drainage systems don't hold up past one or two rain cycles. Designing and installing permanent and effective drainage systems since 1977, Weinstein Retrofitting can keep any home dry using exclusive patented products. There is no wet crawl space or wet basement drainage problem we can't solve!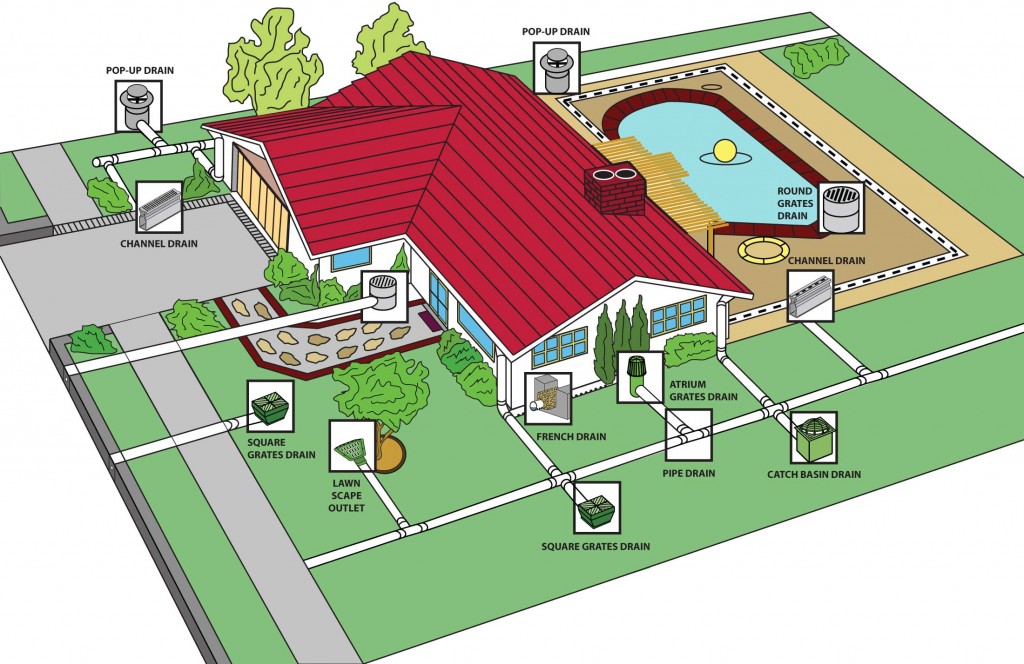 We custom tailor our drainage systems to the unique drainage problem at your home. Yard drainage system components may include: pop-up drains, channel drains, round grates, catch basins, atrium grates, pipe drains, french drains, square grates and lawn scape outlets.
We use award-winning, patented products to design and install drainage systems specially engineered for your crawl space or basement, and we are one of the very few in Southern California who do so! Ask about our Warranties and Guarantees!
Our specialty in designing and installing drainage systems keeps water at bay permanently and effectively, putting water where it belongs!

Our Drainage Systems Products and Installation Services:
French Drains
Waterproofing Protection
Patented Wet Basement Drainage Systems
Patented Crawl Space Drainage Systems
Storm Drains and Rain Drain Systems
Channel Drains
Environmentally Smart Drainage Systems Solutions
Top
Purpose of French Drainage Systems: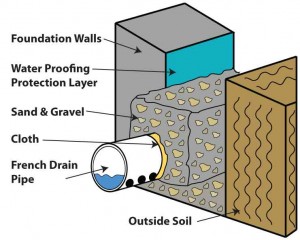 If you've noticed water pooling outside your home, you'll want to install a French drain. This will not only carry away the water, but it will also help prevent water damage to your home.
Usually installed close to your home, a French drain is normally installed at the lowest point on the property. However, French drainage systems can be installed elsewhere in the yard or property if the troublesome water is not located right by your structure. The end of the line for French drainage systems can be anywhere so long as it ends at a point that will not allow the water to flow back towards your home. If gravity allows, it will go to the street.
Our French drainage systems installations take 1-2 days.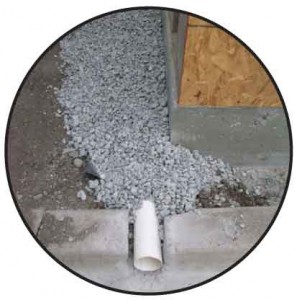 The system itself does not lie very deep within the ground. However, because these drainage systems use gravity to help carry the water away, it is necessary to install your French drain on a downward slope set exponentially at about ¼ inch per foot. In some cases, this may require us to do a bit of extra digging in order to maintain the downward slope.
French drainage systems create an underground channel to funnel water runoff from one area to a lower one.
In some recommended cases, French drainage systems may be installed around the perimeter of the home, and eventually water flows to the street via solid pipe connections and curb cut installations beneath the sidewalk. Our French drainage systems are highly effective.
We provide French drain installation services in Los Angeles, Long Beach, Santa Ana, Huntington Beach, Anaheim, Glendale, Oxnard, Van Nuys, Garden Grove, Torrance, Pasadena, Pomona, North Hollywood, Palmdale, Whittier, Fullerton, La Puente, Simi Valley, Costa Mesa, Downey, Ventura, Bell Gardens, Burbank, Norwalk, Lancaster, Inglewood, Orange, Irvine, and surrounding California areas.
Top
Waterproofing Protection Drainage Systems
Mold can grow almost anywhere there is water damage, high humidity, or dampness. Mold variations can include mildew, fungi, bacteria, and dust mites which can flourish in damp locations with high humidity. Mold spores can cause allergies, airway infections, asthma, and other breathing and health problems, particularly in children. To prevent mold, damp areas, and derivative health problems while protecting your most valuable investment (your home), foundation waterproofing is a great solution.

Waterproofing a house prevents water from penetrating your foundation and causing long term and costly problems.
Drainage Systems help prevent mold related health problems, such as asthma!
Waterproofing also prevents crawl space moisture that can cause mold, allergies, and air quality issues. Our company can help seal your house and prevent expensive structural damage to your home's foundation. Sealing your home will control the air quality within, which will prevent any mold related allergies and air quality problems.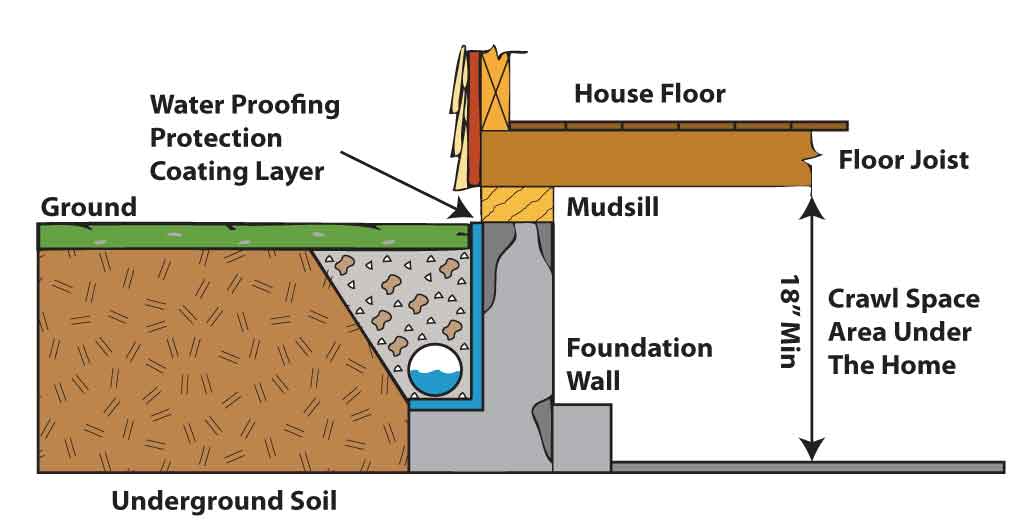 In the pictures down below you can see the process of applying waterproofing protection, which works well with multiple drainage systems solutions:

Top
Basement Drainage Systems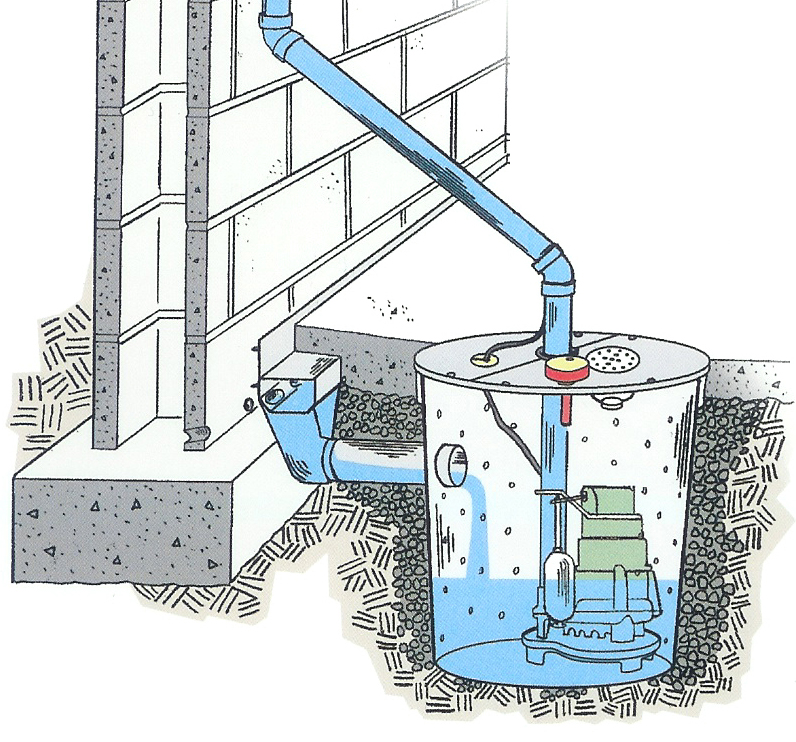 If you've noticed your basement wall is leaking water, we have state of the art, innovative solutions to protect your walls from cracking and buckling, ultimately saving the base structure of your home from experiencing structural deterioration, saving you thousands in damage repair.
Our basement drainage systems will permanently and effectively protect your basement.
If you've noticed any leaky basement walls,  then it may be time to consider our basement drainage systems. A leaky basement wall may lead to extreme basement flooding, destroying all of the property in your basement, including stored valuables and utility equipment. We can design the perfect drainage systems solution to permanently and effectively prevent leaky basements or flooding.
Some of our other products in our catalog of basement drainage systems include the WaterGuard Basement Drainage Systems and the complimentary Clean Space Basement Drainage Systems Encapsulation System (which can also be used for crawl space protection and sealing.) Learn how our Basement Drainage Systems can help you by contacting us today!
Top
Crawl Space Drainage Systems
Water can penetrate the foundation walls, which can cause the foundation footing to crack and cause your home to shift. Water that enters the crawl space can leave the soil wet, causing it to expand and shrink, especially on adobe soil. This leads to foundation settlement and shifting. It also leads to serious health problems for those living in the home. We can install the right crawl space drainage systems solution.
Top
Flo-Well Storm Water Leaching System
Most homes here throughout Los Angeles exist on flat property. These homes, specifically those without property drainage systems, oftentimes see water pooling in the backyard. The backyard is usually set at a point lower than the front yard, so water will find its way there, unable to penetrate the surface of the adobe soil. The rest finds its way to the street and runs off into the ocean. Good fresh water is wasted every time a lawn is watered or when it rains.
There is a green innovation called the Flo-Well Storm Water Leaching System. Your own groundwater aqueduct system, Flo-Well is designed to transfer water from the surface of your soil to the subsoil. Not only is it small, easy to install, clean to use and affordable, but it effectively restricts fresh runoff water from going into the ocean, retaining the water below ground instead.
The Flo-Well system retains water inside the underground single or multilayer chamber, which allows you to recycle that water for lawn irrigation and saves you money!
When the chamber fills, the remaining water raises our below ground water table index. Almost every homeowner now has the ability to raise the level of our water table for less dry summers here in Southern California!
If you have ponds or waterfalls at your home, then Flo-Well acts as a reservoir for the recirculation pumps. It's good for areas that puddle easily, including vast golf courses throughout Los Angeles and Southern California.
Flo-Well installations can change the course of water conservation technology throughout Southern California and Weinstein Retrofitting can install one at your home or property in 1-2 days!