House Leveling
So, you are thinking about having your house leveled? Are you tired of seeing all your kitchen cabinets not fully closing, and you have no idea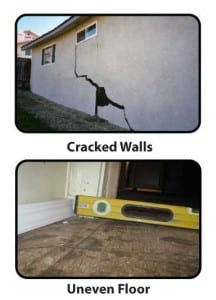 if you should be buying new ones or if there is a bigger problem with your foundation? Then maybe you need to really think long and hard about having your house leveled right away before all of your doors and pantry's get away from you. Having the wrong soil underneath your foundation could be the main cause to all of your house leveling problems! Why wait for your house to tip over technically if you can just call a specialist and get them to take a quick look at the leveling of your house and make sure you are taking all the necessary steps into having a comfortable and level home? There is no reason not to be doing this if you are experiencing random difficulties in your home and noticing certain problem areas that don't seem to be staying fixed.
House leveling is a necessity.
Did you ever try rolling a simple toy marble on your floor to see if it stays or rolls? If it rolls, then you may have a problem to fix. If the ground shifts, which it naturally does, then the foundation changes and it can lead to problems with your house not being completely level. Also, it may lead to many other issues with your home causing you to need special repairs immediately. Having a stable foundation is the key to making sure your home is safe and up to code, which will make it easier for you to sleep at night. Now who wouldn't want a good night's sleep knowing that one's home is perfectly level and feels so right? I know I would make sure everything with my home was feeling just right. But if you are noticing cracks in your ceilings or uneven doors or windows, then the problem should be looked at right away before the damage to your beautiful home gets any worse. Don't hesitate with the good old knowledge of knowing that your home is in tip top shape.
Act sooner rather than later
Getting your home checked by a foundation specialist will not only make sure your house will be stable but will also help with keeping up the value of the your home. That is a great thing for everyone. Having this process done sooner rather than later can actually save you money for repairs in the future. Homeowners should know that a house is only as good as its foundation, and if the foundation is faulty then there may be a bigger problem that needs to be met right away. Let's not wait for our entire home to turn into something that we never meant for it to be. We should be fully aware of our home's needs and really take full comfort in knowing that our homes are safe at night for our families and everyone will sleep soundly. I don't know about you, but I am making sure my foundation is as level as a tight roper's long walk to safety.