The 2014 holiday season brought record lows to Southern California. A cold storm from Canada went south for winter and brought Southern California unusual cold for Christmas.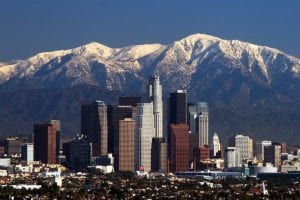 The Los Angeles Times reported that there was a record low recorded at Los Angeles International Airport, according to Stuart Seto, a weather specialist with the National Weather Service. The temperature at LAX dropped to 36 degrees, breaking the Jan. 1 record of 38 set in 1972.
It was felt everywhere throughout the region. It snowed in many places including the Antelope Valley and low elevations of the San Gabriel Mountains. Even the animals at the San Diego Zoo needed extra heat and shelter.
During times like this, with extreme weather, many precautions are taken to protect yourself and those you love but your home also needs some care during this abnormally cold time.
Protecting your pipes
A major issue that occurs during times of extreme cold (or even just extreme cold for the region) is frozen pipes. When pipes freeze, the water is unable to travel as normal and there is the potential for bursting to occur.
With proper planning, pipes can be protected:
Be sure all pipes located in areas of your home or building that could potentially get near or below freezing are properly insulated.
Make sure the heat in your home is working properly (and set the thermostat at a minimum of 55 degrees if you plan on leaving your home for an extended period of time).
Remove garden hoses from outside faucets and make sure the outside faucets are insulated.
But pipes can still burst
Sometimes all of the preventative measures in the world cannot stop something from happening.
So what do you do if you have a pipe burst?
Turn off the water.
Take photographs to document initial damage
Note the locations of cracks in your pipes
Consult a plumbing professional
If a pipe does burst, it is imperative that you deal with it immediately before a bigger problem occurs. If not properly dealt with straightway, water can get inside of walls, soak into the wood and travel throughout your home. The longer your home stays damp, the more likely it is that mold (in its many variations including mildew, fungi, bacteria and dust mites) can grow. Mold spores take about 48 hours to form in a damp, indoor space.
The best thing to do if a pipe bursts in your home is to call a professional. Experts, like those at Weinstein Construction, will help you dry out your home and replace the affected drywall ensuring that your home is as good as new.
Unfortunately, frozen and bursting pipes are not the only things that homeowners have to worry about.
What about the foundation?
Weather effects soil. Rocks and stones in soil that help your foundation to stay in place are prone to breaking down during cold spells, known as expansive or shrink-swell soil. This is a common cause of foundation issues including cracking and slipping. Without the stability of a dependable foundation, your home is in danger.
The best way to combat this is to have your foundation checked before an extreme cold spell occurs. Experts, like the ones at Weinstein Construction, will come and check out your homes' foundation to determine where it may be fallible and help you come up with an affordable plan to fix it.
Foundation fixes include:
Crack repair (with a polyurethane epoxy and a metal joint that holds the two ends in place)
Sister foundation (where a new foundation is poured next to the old foundation to provide additional support)
Foundation underpinning (the process of strengthening and stabilizing a foundation)
Foundation waterproofing
Taking these things into consideration prior to a cold spell will help continue the stability of your homes' foundation but it is always better late than never.
How would you know if you need your foundation repaired? Do you have:
Unleveled floors
Broken floor tiles
Sloping floors
Bumps in carpet
Cracks around windows and door frames
Sticky doors or windows that are difficult to open and close.
If you have any of these symptoms, contact Weinstein Construction to secure your foundation and ensure the stability of your home.