Foundation Repair Hollywood
Foundation Repair Hollywood

Weinstein Retrofitting Systems is your EXPERT foundation contractor in Hollywood, California!
Weinstein Retrofitting Systems offers full foundation repair services for homes and buildings in the Hollywood area. From single family residences up to celebrity mansions and commercial buildings, we have the experience it takes to perform any kind of foundation repair in Hollywood.
Weinstein is Hollywood's premier choice of foundation contractor when it comes to foundation repair & replacement, earthquake retrofitting, and drainage solutions.
Signs & Symptoms of Common Foundation Problems:
Rain water coming into the foundation
Water pooling inside of the foundation or around it
Cracking concrete
Rotting wood
Bad smells
Termite, vermin, rodents, insects, pests
Inaccessibility
Poor insulation of the floors
Too much uneven dirt
Radon gases
High moisture content
Lack of earthquake retrofitting hardware
Unlevel floors
Uneven posts and piers or lacking thereof, or lacking of metal connections for extra strength
Burn damage
Open ventilation
High humidity
Lack of wood blocking at appropriate areas
Floor joists or floor girders not running in correct directions or not connecting to anything but the floor
Foundation settlement
Hillside home is slipping off
And much, much more. Please call or contact us today if you are experiencing any foundation problems!
According to Home Facts, the USGS database shows that there is a 95.894% chance of a major earthquake within 50 miles of Hollywood, California within the next 50 years.
Weinstein Retrofitting Specializes in Protecting Your Home from Earthquakes in Hollywood by Repairing the Foundation of Your Home
With over 7,000 satisfied clients, Weinstein Retrofitting continues to deliver exceptional customer care
Why Choose Weinstein Retrofitting?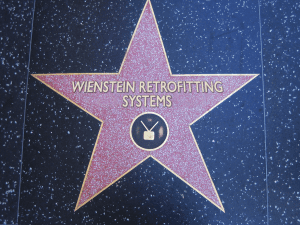 In business since 1977
Fully licensed, bonded, and insured
Dedicated project managers
No Subs
Over 65,000 inspections conducted
More jobs performed in Hollywood than any other foundation contractor
Contact us today and see for yourself why we're the best in the foundation repair industry in Hollywood, CA.
Foundation Repair in 90028, 90038, 90068, and 90078

View Foundation Repair Hollywood in a larger map
Contact Us Today!
Call Toll-Free (877) 690-0926
We are local in Hollywood